FloorMuffler Premium Underlayment for Laminate, Hardwood, and Engineered Floors
Resistant to mold and mildew
Provides moisture control and acoustic properties
For use with hardwood and laminate
Compare
Description
FloorMuffler UltraSeal flooring underlayment is a Premium Grade cross-linked polypropylene foam with UltraSeal self-sealing lip and tape system. FloorMuffler UltraSeal is the ideal choice for most Laminate, Engineered and Solid hardwood flooring applications and can used for Floating, Nail Down, and Double Glue Down installations. Ideal in both residential and commercial projects.
For use with Laminate, Engineered and Solid Hardwood flooring systems, in Floating, Nail Down, and Double Glue Down applications
Highest Acoustic Ratings on the market: IIC up to 74 dB, STC up to 73 dB, Delta IIC up to 25 dB
Built-in Moisture Barrier means no additional films required. UltraSeal lip & tape system joins rolls at the seams ensuring moisture protection
Superior compression characteristics help to ensure the integrity of your floor's tongue and groove system
Mold and Mildew Resistant
Fully Recyclable
Surpasses the indoor quality emissions requirement for California's Section 01350-the most stringent volatile organic compound (VOC) emissions standard in North America
Limited Lifetime Warranty
Brand
FloorMuffler
For over 35 years, Diversified Industries has provided highly engineered solutions to a variety of industries globally. Initially founded as a converter of flexible foam, Diversified Industries has grown to become a global supplier of engineered solutions for a diverse group of markets and customers. FloorMuffler® is Diversified Industries' family of Patented High Performance Flooring Underlayment.
Additional information
Details
Warranty / Certifications
Sound Ratings
| | |
| --- | --- |
| Delta IIC Rating | 20-25 |
| IIC Rating | 70 & Up |
| STC Rating | 70 & Up |
More
Installation Guide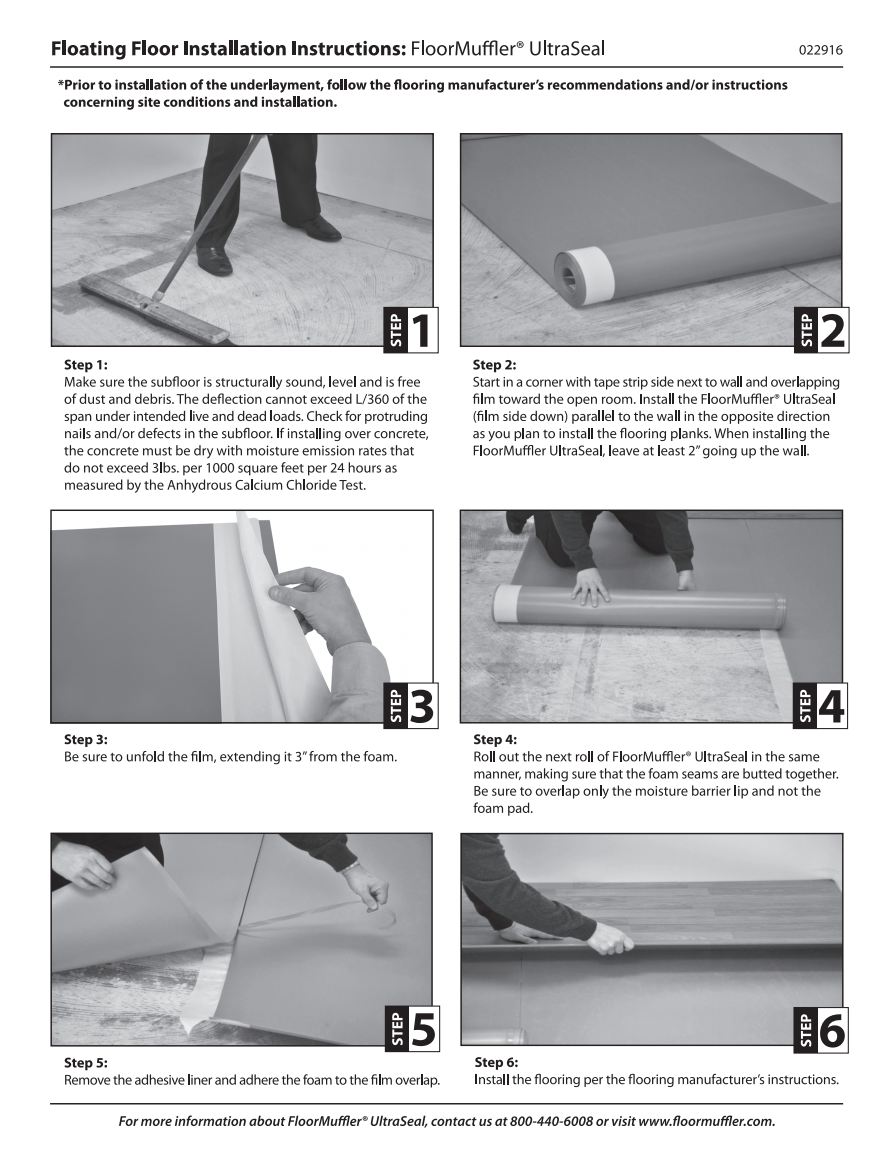 Product Brochure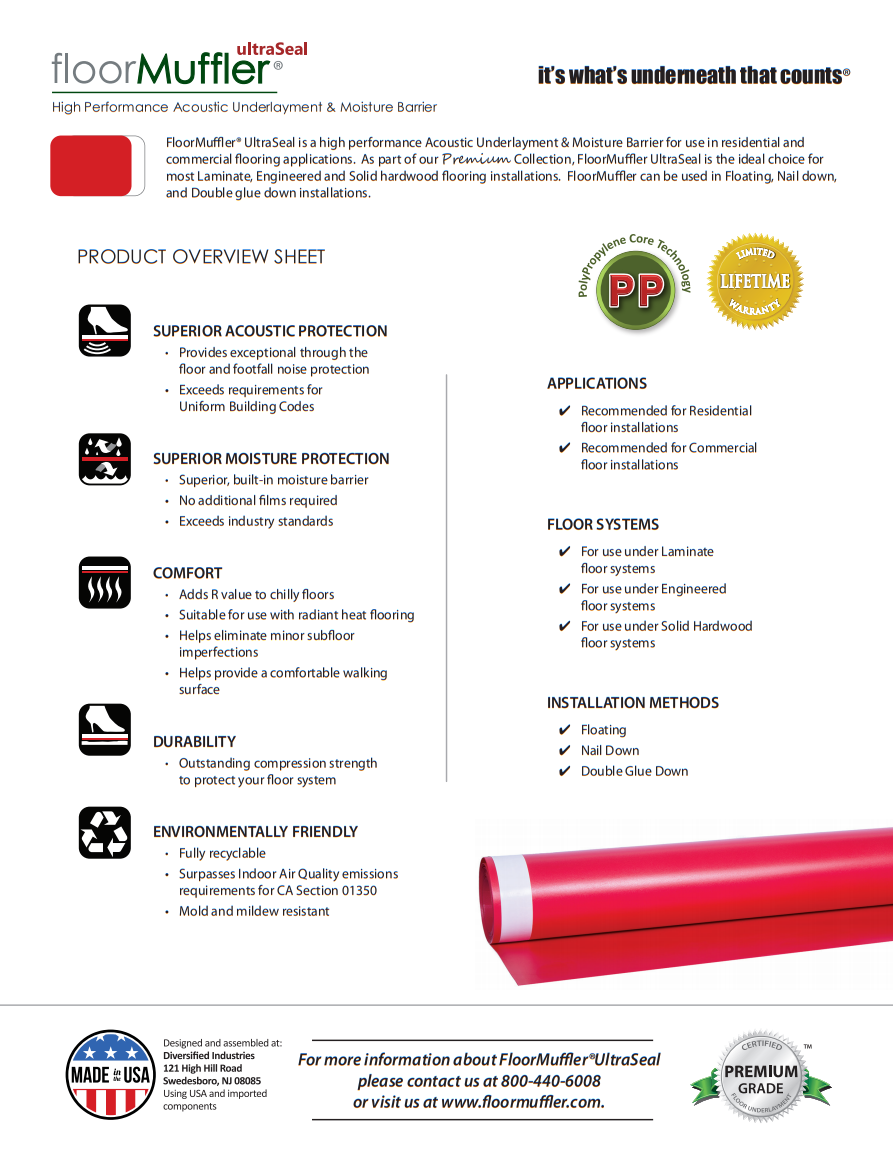 Product Label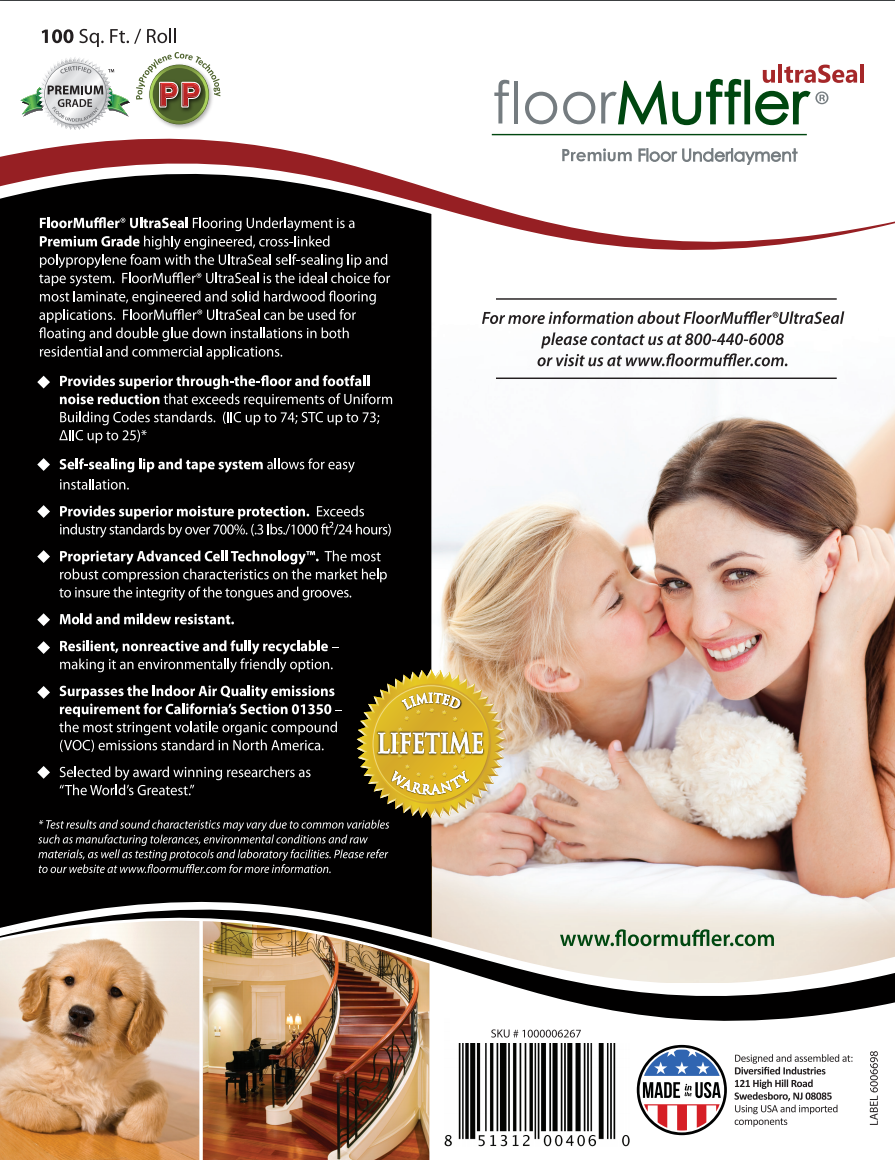 FAQ
The following questions and answers were gathered from multiple online resources. We wanted to to provide our readers an all-in-one place to research flooring underlayments.
Nail down application?
Yes, You can float, double glue down, or nail.
Can you glue bamboo over it?
Yes it can be installed with Bamboo, it CANNOT be glued though.
Do I need a separate moisture barrier film in addition to this floor muffler?
No, you don't need moisture barrier with FloorMuffler as it is itself a moisture barrier.
What is the R value?
R value is 3
Will this work with LVT?
This does not work with LVT
What is VOC air quality rating?
It passes California's section 03150 test which is the strictest in North America.
Can this be used with radiant heat?
The product is suitable to be used in conjunction with radiant heating. You should contact the manufacturer for installation instructions.