Felt underlayment has been the traditional choice of underlayment for a long time. There are a lot of different underlayments around the market. Today, we'll break down the our top 3 felt underlayment picks.
What is felt underlayment
Felt underlayment is usually environmentally friendly. Most felts are made from recycled fibers that are compressed in a high heat manufacturing process.
Benefits of felt underlayment
Felt underlayment is a dense material. This naturally gives it an advantage in sound reduction over most foam underlayments out there. The dense fibers do a excellent job insulating your home. A good amount of reviews report felt doing a superior job cushioning your floor, leading to a more comfortable experience.
Felt is not naturally a water resistant material, but most felt underlayments come with a pre-attached vapor barrier. Felt underlayment is versatile, it can be used with laminate, vinyl, hardwood, and more.
1. QuietWalk Underlayment
You can not go wrong with QuietWalk. It checks every box when looking at desirable features. It is the highest quality felt underlayment on the market.
During the manufacturing process QuietWalk's patented additive gives the felt a more sturdy and tighter bond between fibers. This makes it highly compression resistant, which will give the underlayment long lasting support.
The recycled materials also do an excellent job of absorbing sound, giving it some of the highest sound ratings on the market. These make it ideal to use on second levels, condos, and apartments.
The attached vapor barrier and dri-wick technology allows installations over concrete and manages vapors from becoming bulk moisture. It is also treated with a anti-microbial to prevent mold and mildew growth.
QuietWalk is Greenguard Gold Certified, which means it has very low VOC emissions and is acceptable for use in environments such as schools and health care facilities. It is also compatible with underfloor radiant heating.
The price is still very affordable for a top of the line product. If you want to ensure you have the best underlayment for the job, this is a great option.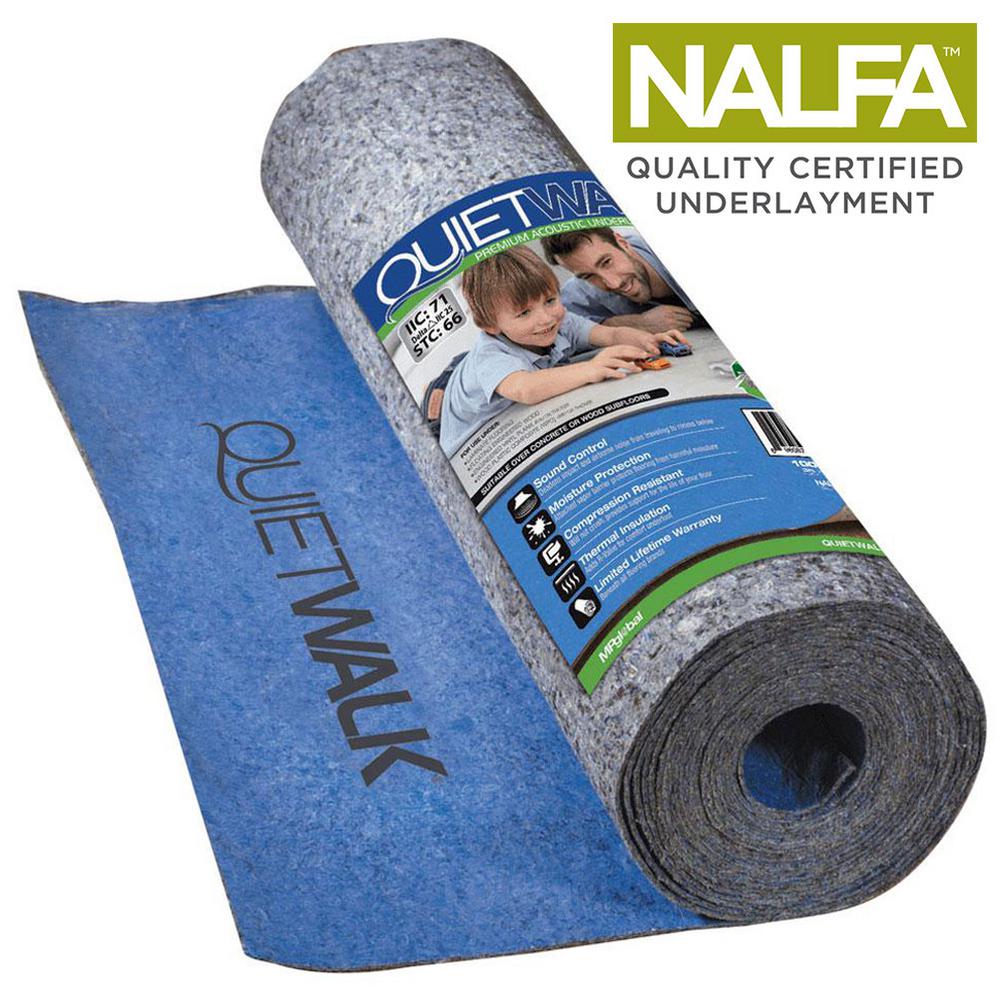 If you are planning on having a glue/naildown installation, then Insulayment is ideal. It will even work with ceramic tile. It can also be used in conjunction with radiant heating.
Insulayment is also made from recycled materials. It is LEED compliant and will not put off harmful VOC's.
It will help keep your floors warm by adding a thermal "break" to the flooring assembly with an r-value of 0.57.
Insulayment does not have a moisture barrier, but it is to allow better adhesion with wood-flooring adhesives and thinset mortars.
This underlayment is a great option if you want to do a glue or nail down installation without sacrificing the benefits of felt underlayment.
3. Roberts Premium Felt Underlayment
Roberts Premium Underlayment is the cheapest of the 3. It still provides a luxury feel, especially compared to cheaper foam underlayments.
This underlayment has great insulation properties, providing a good thermal break in between your floors.
It has great sound reductive properties, but they are not quite as impressive as QuietWalk. It also has an include moisture barrier which blocks any excess moisture.
Unforunately, it is has not been treated with antimicrobial, so you may want to avoid installing it in rooms where mold or mildew may present an issue. Additionally, it does not seem to be as firm as QuietWalk, which makes me question the longevity of the compression resistance.
Roberts Premium Underlayment is still one of the best felt underlayments, but falls behind in the amount of features it has to offer, putting it at number three.